From Rye Free Reading Room [i.e. Rye's Public Library], August 31, 2016:
Many thanks for the Star Trek program. I just received a glowing email from one of the attendees about it (this rarely happens, believe me!) and a couple of patrons who were leaving made very nice remarks about the tons of information you provided.—Bettyjane Surabian, YA/Reference Librarian.
=-=-=-=-=-=-=-=-=-=-=-=-=-=-=
From Mount Pleasant Public Library, January 30, 2015:
Thanks so much for presenting the Doctor Who program at the Library last night. I've gotten some very positive feedback. We look forward to having you present another program at the Library!
Sincerely,
Deborah Jordon
=-=-=-=-=-=-=-=-=-=-=-=-=-=-=
=-=-=-=-=-=-=-=-=-=-=-=-=-=-=
From The Greens at Half Hollow Hills retirement community, April 26, 2012:
Dear Mr Young
Thanks so much for the great morning. Everyone enjoyed your professional presentation and really learned so much about Hollywood stunts. We will be happy to have you back next year and look very much forward to it. Someone asked where you will be speaking in the future and would like to hear you.  Let me know asap as to when and where. Continued success in your career and good luck in your creative writing endeavors.
Sincerely,
George Borsuk, Programming Committee
=-=-=-=-=-=-=-=-=-=-=-=-=-=-=
From Freeport Memorial Library, September 15, 2010:
Dear Mr Young:
Thanks so much for agreeing to present, on such short notice, one of your programs, Yikes: the History of Film Stunts at the Freeport Memorial Library in place of our canceled presentation, "The Golden Age of Radio." …. I really do appreciate your helping us out.
Cordially,
Jean Scanlon, Program Director
=-=-=-=-=-=-=-=-=-=-=-=-=-=-=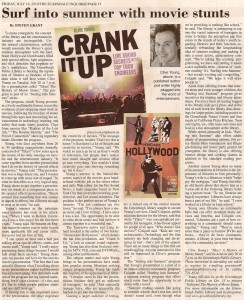 "The subject matter and style Young brings to his presentations have made him popular among librarians seeking unique programming"—The Scarsdale Inquirer, July 16, 2010.
"Anyone interested in film will be interested in Clive's presentation" — Geoff Colquitt, public relations director, Greenburgh Public Library, discussing Yikes: The History of Movie Stunts in The Scarsdale Inquirer.
[Click here for complete article]
=-=-=-=-=-=-=-=-=-=-=-=-=-=-=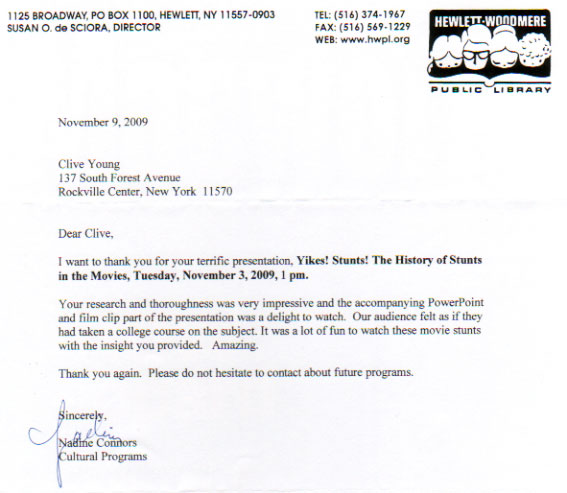 =-=-=-=-=-=-=-=-=-=-=-=-=-=-=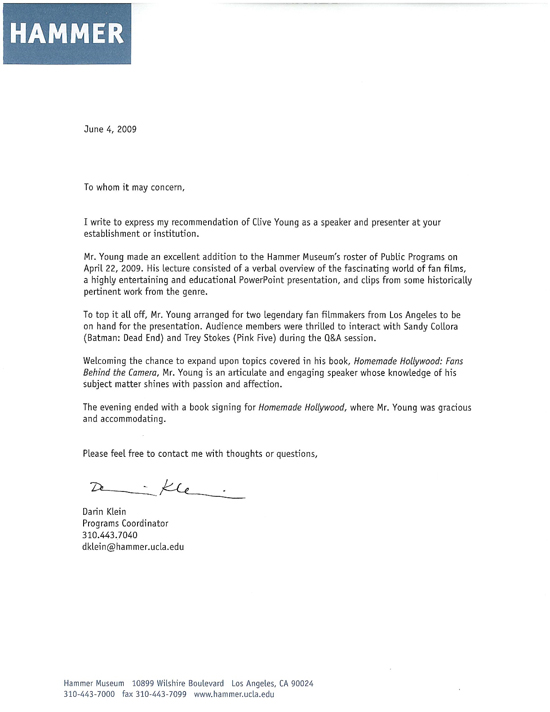 =-=-=-=-=-=-=-=-=-=-=-=-=-=-=
[Received via email, regarding "Insights on Interviews" author talk given at Oceanside Library's "Discovering The Writer Within" monthly creative writing workshop; November, 2008]
Hi Clive —
Thank you for the very interesting and informative presentation. Everyone enjoyed it and appreciated your insights.
All my best,
Barbara Novack
Writer-in-Residence at Molloy College;
director of "Discovering The Writer Within"
=-=-=-=-=-=-=-=-=-=-=-=-=-=-=
[Received via email from South Salem Library, November 2008]
Hi Clive,
We were all happy here at South Salem Library with your program, Kaboom: The History of Special Effects, and your professionalism and enthusiasm running it. I am sorry that some library patrons chose to come with infants/toddlers and kids way too young to be there; we did specify over 10 years old to enjoy this program. Anyway, we all had fun and look forward to selecting another one of your programs for our library next year.
Warm Regards,
Dolores Antonetz
South Salem Library
15 Main Street
South Salem, NY
=-=-=-=-=-=-=-=-=-=-=-=-=-=-=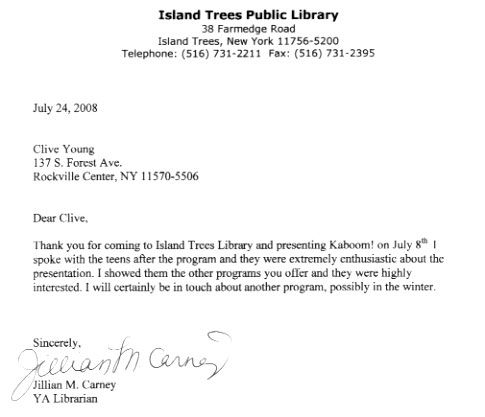 =-=-=-=-=-=-=-=-=-=-=-=-=-=-=
[Posted on the "Nassau County Library Association PR" Yahoo Group– NCLAPR@yahoogroups.com–May 21, 2008]
"Clive Young does some excellent programs on fan films, etc. You may want to get in touch with him."
–Tracey Simon
Director, Floral Park Public Library
=-=-=-=-=-=-=-=-=-=-=-=-=-=-=
[Received via email from I-CON SciFi Convention, Spring, 2008]
You are definitely welcome, always, at I-CON. Your programs are always well-crafted as well as well-recieved. Congrats on the upcoming book!
-Jim "Prof. Kinema" Knusch
Film Chairman, I-CON
=-=-=-=-=-=-=-=-=-=-=-=-=-=-=
[Received via email from Bellmore Public Library, Fall, 2007]
Dear Clive,
Thank you for your excellent program, Video Killed the Radio Star: The History of Music Videos, which you presented at Bellmore Memorial Library last night. As always, your program met and exceeded our highest expectations.
One of my teens emailed me this morning, and I quote:
"Thank you for the show about music videos it was awesome!" Breanne
Your talk was impeccably organized, the directors and music examples you showed were fascinating, and everybody had a great time! Again, many thanks for sharing your wide ranging interests with the teens and adults of Bellmore.
Sincerely,
Patti Paris and Pat Gleiberman
Bellmore Memorial Library
2288 Bedford Ave.
Bellmore, NY 11710
=-=-=-=-=-=-=-=-=-=-=-=-=-=-=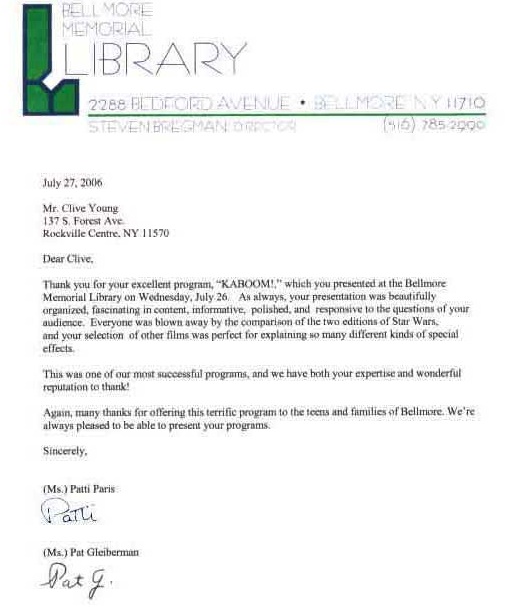 =-=-=-=-=-=-=-=-=-=-=-=-=-=-=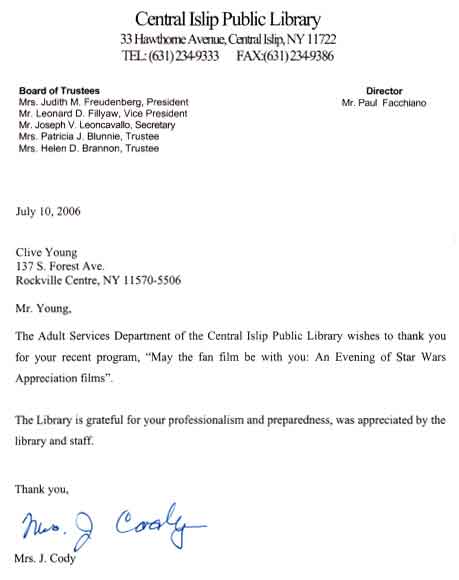 =-=-=-=-=-=-=-=-=-=-=-=-=-=-=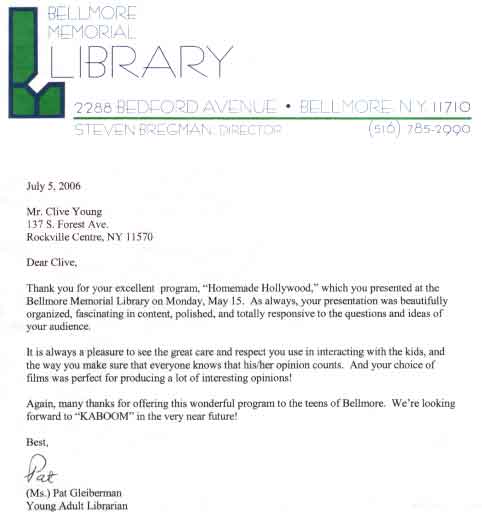 =-=-=-=-=-=-=-=-=-=-=-=-=-=-=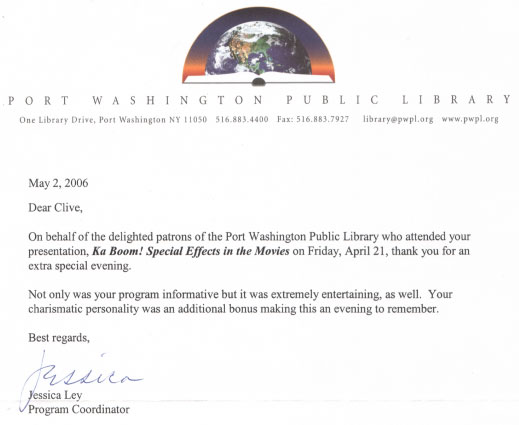 =-=-=-=-=-=-=-=-=-=-=-=-=-=-=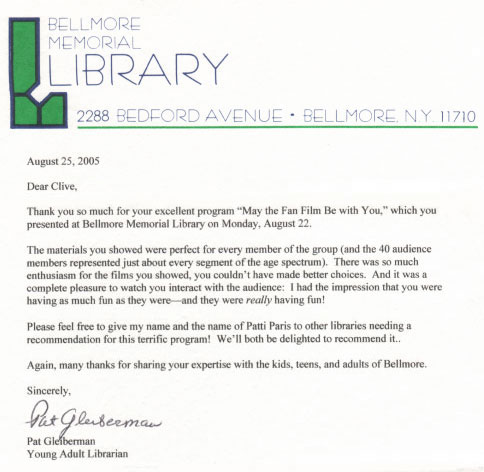 =-=-=-=-=-=-=-=-=-=-=-=-=-=-=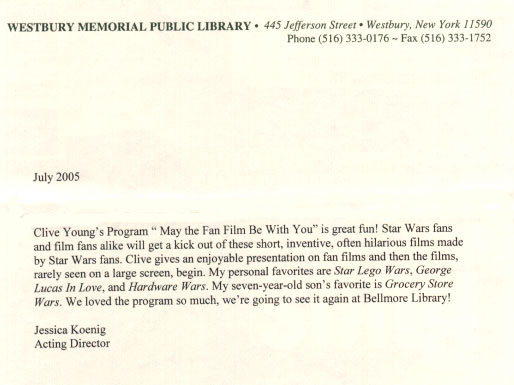 =-=-=-=-=-=-=-=-=-=-=-=-=-=-=

=-=-=-=-=-=-=-=-=-=-=-=-=-=-=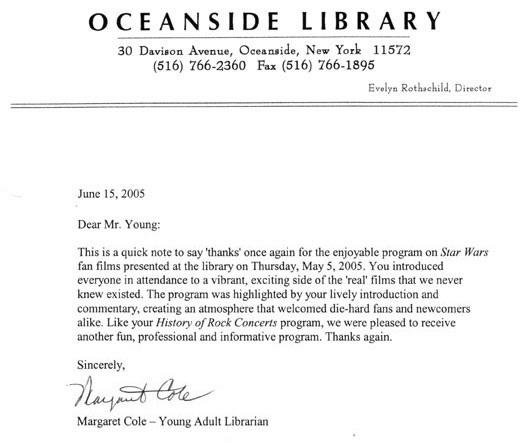 =-=-=-=-=-=-=-=-=-=-=-=-=-=-=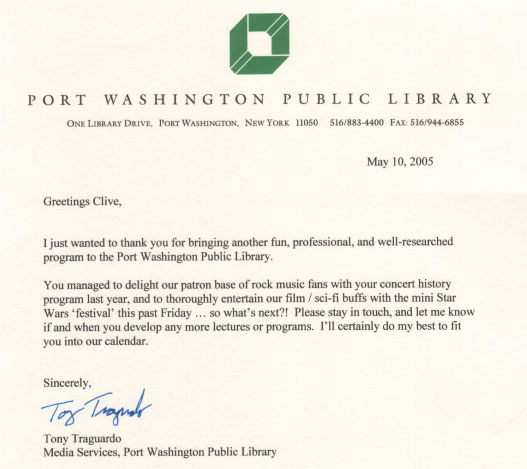 =-=-=-=-=-=-=-=-=-=-=-=-=-=-=