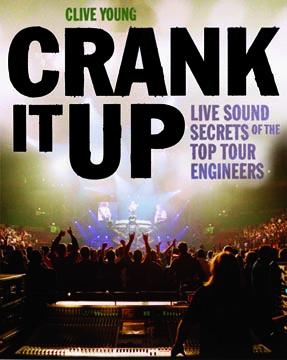 "Very well researched and written book. I wish I had this book to read when I was first starting in the biz."—Ken "Pooch" Van Druten, FOH engineer for Linkin Park, Kid Rock, Limp Bizkit, Kiss
"Highly enjoyable…I can't think of a better resource than Crank It Up."—Lighting & Sound America
"Crank It Up is a blast and highly recommended."—Indie-Music.Com
"Crank It Up offers some illuminating insights into how the pros make live shows sound as good as they do these days." —Billboard
"This book has it all! And, if you're a music collector, you're going to want to add this insightful book to your summer reading list–today!"—Hit Parader
"If you are in the business of live sound or want to be in the business, this book is for you."—ProSoundMixer.Com
"This fun book interviews live sound engineers about their experiences….[and] how they handled their front-of-house and monitor duties for such acts as Fleetwood Mac, the Dixie Chicks, Usher and Kid Rock."—Reference & Research Book News
"Without question, Crank It Up is mandatory reading for anyone who mixes live sound."—Marvin Welkowitz, Professor of Live Sound, New York University
"Clive Young…is a world-class expert on live concert sound and the author of Crank it Up: Live Sound Secrets of the Top Tour Engineers, a book I've read cover to cover."—Edward Tufte, Yale University Professor Emeritus of statistics, graphic design and political economy.
"A must-read for any live sound mixer!"—Keith Hatschek, Chairman, Department of Music Management, University of the Pacific; author of How To Get a Job in the Music and Recording Industry.
"Anyone who writes about music or works in the music business needs to read this book, but fans of the artists whose tours are profiled herein will find these tales accessible, informative and entertaining."—David McGee, author of Go, Cat, Go! The Life and Times of Carl Perkins, The King of Rockabilly.
U2sound.Com, a German site written in English, said (sic): "All in all, this book is really nice if you are interested in reading about tricks and philosophies top artists are using together with their live crew when you see them in your local football stadium to make the concert an unforgettable night. …If you are there to ask how the band sound get's delivered into a big arena this is your book. you can learn lots of things here – believe me. that's my honest opinion. The book is much better than many articles from magazines and as these information are all from one hand, it's a very good value you get here. so if you want to learn, then this is a good investment – definitely."
Articles on Crank It Up appeared in:
Hofstra Update
Crank It Up has been excerpted in:
Backstreets (Springsteen magazine)
East End Lights (Elton John magazine)
The Full Review From Lighting & Sound America:
"As a lighting guy who occasionally shows his ignorance by talking about sound, I felt a bit out of my depth when picking up this volume. However, Crank It Up is advertised as being for beginners and professionals alike. It is a highly enjoyable and consistent view of touring sound engineers and their work. Not a critical book in any sense, it allows one to spend time with over 70 top engineers. It gives a real sense of what is important to them and how one differs from the next—who these people are and how they came to do what they do.
There is enough techno-babble to keep the tech heads happy but at the same time, complex issues are explained succinctly and in a way that even a lay person can understand. For the most part, I did not feel that the absence of a glossary of terms.
A cynic could conclude that all Clive Young, a senior editor for Pro Sound News, had done was assemble a number of interviews from over the years. If so, I applaud his skill as a writer—it doesn't read like a collection of reprints. [That's because it isn't—Clive] Each tour profiled is tackled with the same consistent focus on the engineer's point of view.
One of the most fascinating aspects of the book for me was how different artists and monitor engineers approach the monitor mix. This often-overlooked and sometimes thankless task is given just as much focus as FOH and should be of particular interest to budding engineers.
This book also contains pearls of wisdom about working on the road and the engineer's mindset. These are mostly contained in sidebars from the main text, which I normally find annoying and distracting. Given the short chapters, however, they are forgivable, particularly as they spawn such gems as this quote from John Cooper, FOH engineer for Bruce Springsteen and the E Street Band: "You can't sit there, overanalyze things, and say 'OK, I need to push it up by a few db.' No, you push it up until it feels good, and if you go too far, you pull it back.'
If you want a better picture of what is important to 'noise boys,' if you want to hear your peers discuss your chosen profession, or even if you are considering sound as a career, I can't think of a better resource than Crank It Up." —Mike Falconer, Lighting & Sound America