Back in the fall of 2009, I was interviewed for the documentary, The People Vs. George Lucas, which explores the often volatile relationship between the Star Wars creator and his fans. As I've mentioned before, I was a bit reluctant to participate due to the title, which makes it sound like one big, long bash-fest, but they lined up such a high-caliber selection of interviewees that I figured the filmmakers had to be on the level. I agreed to the interview, they showed up and covered my living room with cables and lights, and we had a great chat for hours on end about fan films, Lucas, the Library of Congress, Raiders of the Lost Ark, my book Homemade Hollywood, and more.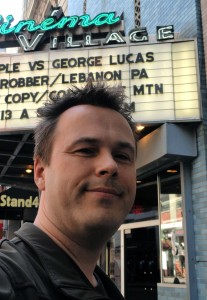 A few months later in 2010, the movie hit the festival circuit, and I heard through the grapevine that I made the final cut—pretty cool, since they shot more than 600 hours of interviews! That said, I didn't know what parts of our Q&A made it in; when I was in the straight-to-video documentary Jedi Junkies, I appeared for a whopping 14 seconds, so for all I knew, this was going to be the same deal.
Having landed distribution, PvGL is now seeing a limited release in various major cities before hitting DVD sometime later this year. The first city to get the flick was New York, so after more than a year of suspense, I finally got to see the film and…it's pretty good.
The director, Alexandre Philippe, told me initially that he wanted to make a film where he could theoretically sit on a couch next to Lucas and be able watch it with a clear conscience. To that extent, he gives the man plenty of credit, but he doesn't pull punches either—it does have a lot of bashing (inevitable given the premise) but it's fairly even-handed, covering a lot of ground adroitly. At 90 minutes, the film felt about 15 minutes too long, but it's enjoyable all the same. My beloved Michelle, who could care less about Star Wars, was hooked early on (and not just 'cause I'm in it), so it's safe to watch with your disinterested significant other. Fellow fans know—this aspect is very important.
While the film's good, what's even more surprising is that I'm pretty good, too. I usually hate myself on screen, but I appear in it a few times, speak reasonably intelligently and get a laugh or two, which is the best you can hope for in these circumstances. All in all, if you get a chance to check it out PvGL, whether on the silver screen or DVD, give it a try—and if you do, let me know what I said the first time I appear, because my beloved Michelle cheered so loudly that none of us in the theater could hear a word of it!