Robbins Barstow, Jr. passed away in November 7, 2010; I was fortunate enough to get to know him over the last few years of his life, and finally met Robbins and his kind wife, Meg, in person only a few months before he died. Every time I spoke with him, I was always inspired by his endless enthusiasm, and likewise amazed at how hobby projects he'd created a lifetime earlier were still resonating for himself, his family and thousands of others. Below is what I originally wrote here on my site about finally meeting him face-to-face; for a proper remembrance, see his obituary in the New York Times.
• • • • •
I recently got to hang out with Robbins Barstow, Jr., who made a Tarzan fan film when he was 16—in 1936! While I interviewed him via phone a few years ago for Homemade Hollywood, we never had an opportunity to meet in person; luckily, we stayed in touch, and on a recent trip through Connecticut, I finally got to stop in and meet the fan film pioneer in person.
Robbins has a slew of fun stories, only a few of which wound up in the book. In his chapter, you can find out about the Tarzan movie he made with his brothers way back when—and the sequel they made in 1974, when they were all in their 50s. During the years in between, the first film became something of a family treasure, brought out at holidays and parties to be shown amidst hoots and hollers, all the while narrated by Robbins' sly, understated wit.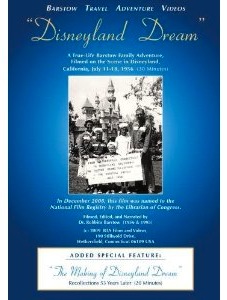 Visiting with Robbins and his wife, Meg, it was easy to see how they enjoy sharing a lifetime's worth of amateur films with the world (you can check out 16 of their movies online at archive.org). One of them is about as famous as a home movie can get: Disneyland Dream, which was named to the National Film Registry by the Librarian of Congress in December, 2008. You can watch it online HERE and even buy it on Amazon HERE.
They screened the 30-minute flick for us—my restless 5-year-old, Ava, was entranced—and it's special. The film recounts the true story of how in 1956, the Barstows won a Scotch Tape contest for an all-expenses-paid trip to the then brand-new Disneyland, following every step from flying over New York City enroute to California, to trying every ride in the park. It's all told and shot with great humor—for instance, every member of the family comically faints on the front lawn when they learn they've won the contest. The opportunity to see Disneyland in its earliest incarnation, as well as 1950s Hollywood (including the famed concrete handprints) and the Universal Studios tour, is also a treat.
One of the most enchanting things about the movie, however, is that it has taken on a life of its own, continuing to resonate and give back to the Barstows more than half a century after it was made. For decades, Robbins showed it to friends and family, travel clubs, on local public access cable TV, and so on, and it was accepted to be preserved forever by the Library of Congress. But then the story gets more unusual; in 2009, he got an email from Steve Martin—yes, that Steve Martin—letting him know that Martin had seen the movie, and spotted himself in it as a pre-teen, selling guidebooks at the front gate. You can find out more about that story HERE.
Filmmaking is just one of Robbins' many past-times, however, which include everything from saving the whales to science fiction. During our interview years ago, he asked me, "Say, have you ever heard of Star Trek?" Um, yes, yes I have. He then launched into a great story about how Catherine Hicks (the cetacean biologist from Star Trek IV, but best-known as the mom on 7th Heaven) wound up staying over in their guest room one night.
Meeting Robbins and Meg was a fun experience, and we were grateful for their kindness and hospitality. Over the last year, I've finally met a lot of the people I wrote about in the book, and chatting with Robbins proved once again that discovering these folks in person has been the most enjoyable and rewarding part of the whole process.