When I wrote Homemade Hollywood a few years ago, I interviewed fan filmmakers all over the U.S., and in nearly every case, I had to do it via phone or email—traveling the country to talk to all those folks just wasn't feasible since I had no budget or time. All of that makes me quite envious (in a good way) of John Hudgens, who interviewed me this week for his fan film documentary, Backyard Blockbusters.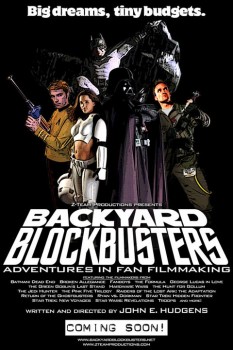 See, John is from Knoxville, TN, which means he drove a loooong way to get to the 'burbs of New York City where I live. Luckily, I was just one stop on his whirlwind, self-appointed Northeast tour, which includes visits with Dan Poole (who once swung off a six-story building for his own Spider-Man movie), Adam Bertocci (fan filmmaker/author of the viral hit Two Gentlemen of Lebowski), James Cawley (head honcho of the mindboggling Star Trek Phase II series); Michael Wiese (producer of the legendary Hardware Wars); and others. And that's just this journey—over the last few years, John's interviewed everybody in the fan production community; take a look at Backyard Blockbusters' Facebook page and you'll see what I mean.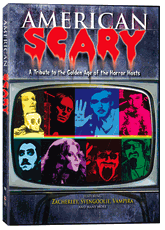 If anyone is qualified to make a feature-length documentary about fan movies, it's John. After all, this is a guy who won awards from the Lucasfilm Star Wars Fan Movie Challenge two years in a row. Then there's the fact that he co-wrote/directed American Scary, a film about TV horror movie hosts that just won this year's Rondo Award for Best Documentary. The guy knows what he's doing, and he's coming to the topic of fan films from the right place.
I had never met John before, despite the fact that we've traded emails since the late 90's and I interviewed him for the book. When he turned up on the doorstep Friday night, weary from doing battle with the infamous Belt Parkway, we devoured a round of Thai food, then settled in for two hours of chat and shop talk. Over the course of the evening, we wound up exploring nothing less than the history, psychology and greater meaning—if such a thing is possible—of fan productions. We had a great time, and I can hardly wait to see the finished film; I suspect that our respective alliteratively titled projects will complement each other very well.